World Refugee Day: A Call to Action to Support and Empower Displaced People Everywhere
June 20, 2023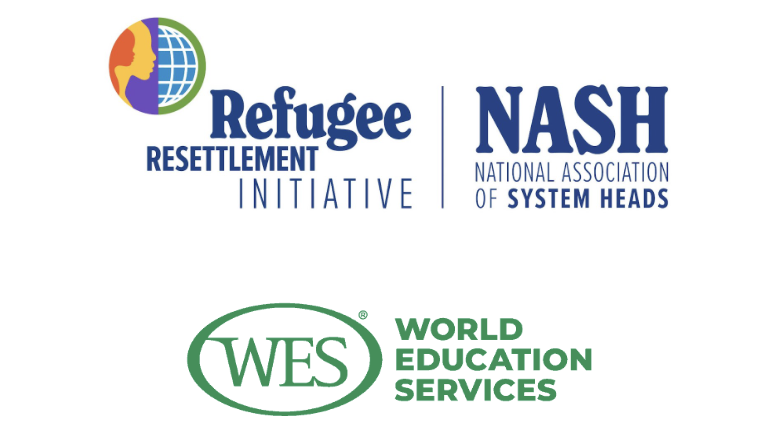 Co-Authored: Dr. Nancy Zimpher, Interim Executive Director of the National Association of System Heads (NASH) and Esther Benjamin, CEO and Executive Director, World Education Services (WES)
This World Refugee Day, we refuse to turn a blind eye to the struggles refugees and displaced people face worldwide. Their indomitable spirit and resilience deserve our unwavering compassion, wholehearted support, and resolute advocacy. And amidst these challenges, a shining beacon of hope emerges – the groundbreaking efforts spearheaded by higher education system leaders in support of refugees, like Western Kentucky University's (WKU) Resilient Refugee Program, launched last fall to serve displaced students in the Bowling Green community. Programs such as these are essential to prepare our country's refugee populations for the U.S. workforce, social integration, self sufficiency, and success.
In December 2021, a devastating tornado wreaked havoc on Bowling Green, KY, compounding the trauma already experienced by recently arrived refugees from Afghanistan. Recognizing the significant barriers and deep gaps refugees face in accessing higher education, WKU wasted no time. In January 2022, the university formed a refugee task force to address these concerns head-on. The Resilient Refugee Program, a cornerstone of their efforts, provides displaced students on campus with personalized support to navigate the complexities of life on a U.S. campus. Such programs are not just essential; they are imperative for empowering and uplifting our refugee populations. WKU is one of 49 higher education institutions – comprising two systems: the Kentucky Council on Postsecondary Education and the Kentucky Higher Education Assistance Authority – which are taking part in the Kentucky Humanitarian Assistance Scholarship, leveraging state-allocated funds to educate hundreds of refugee-background students in Kentucky. 
According to the United Nations High Commissioner for Refugees (UNHCR), there are over 35 million refugees worldwide, in addition to 5.4 million asylum-seekers and 62.5 million internally displaced people. These individuals have been forced to leave their homes due to persecution, conflict, or violence. They face numerous challenges, including discrimination, poverty, and lack of access to basic services such as healthcare and education.
World Education Services (WES) is dedicated to supporting refugees to achieve their educational and career goals in the United States and Canada. WES works alongside its partners to develop programmatic, philanthropic, and policy solutions to issues of global mobility and inequity. The WES Mariam Assefa Fund, the philanthropic arm, supports refugees by focusing on four main areas. The fund seeks to support initiatives that catalyze solutions for economic mobility, accelerate worker-centered innovations, back immigrant and refugee  leaders, and grow the movement for inclusive workplaces and communities. In doing so, the Fund  aims to create career opportunities, equitable workplace practices, and better representation for refugees. WES is supporting refugee inclusion through funding and collaboration while fostering a broader support network dedicated to their integration and success. 
WES is honored to partner with the National Association of System Heads' (NASH) Refugee Resettlement Initiative (RRI). WES and NASH RRI are well aligned around a shared goal to support a more resilient refugee resettlement sector and ensure universities have the resources and tools necessary to create more welcoming campuses, increase access to higher education, and play a key role in the resettlement of refugees. 
The Refugee Resettlement Initiative founded by NASH is committed to supporting and empowering refugees and displaced people in several ways. One of the most important is to raise awareness about their situation and advocate for their rights. This can be done through community events, educational initiatives, and social media campaigns.
Reaffirming our commitment means taking concrete actions to support refugees and host communities. This includes ensuring refugees' access to protection, healthcare, education, and other essential services. It also means supporting host communities that have generously opened their doors to refugees, often in the face of their own economic and social challenges.
On World Refugee Day 2023, we call on all stakeholders to take concrete actions to uphold the rights and dignity of refugees. We urge governments, civil society organizations, the private sector, and individuals to:
Increase refugee assistance and protection funding

Explicitly outline strategies for refugee inclusion in national and state development plans, including access to education, healthcare, access to the workforce and livelihood opportunities.

Strengthen international cooperation to address the global refugee crisis.

Ensure that refugees can access their legal rights, including the right to work, freedom of movement, and family reunification.

Foster a culture of empathy and solidarity towards refugees, and combat xenophobia, racism, and discrimination.
We cannot ignore the plight of refugees. As we mark World Refugee Day 2023, we must reflect on the challenges faced by refugees and host communities, reimagine a better future for all, and reaffirm our commitment to upholding the rights and dignity of refugees. It is time for action, and we call on all stakeholders to step up and support refugees in their time of need.
On this World Refugee Day, let us unite as a global community to recognize the resilience and courage of refugees and displaced people and commit to supporting and empowering them. By working together, we can create a better future for all of us.