Superconvening
An annual gathering of public systems of higher education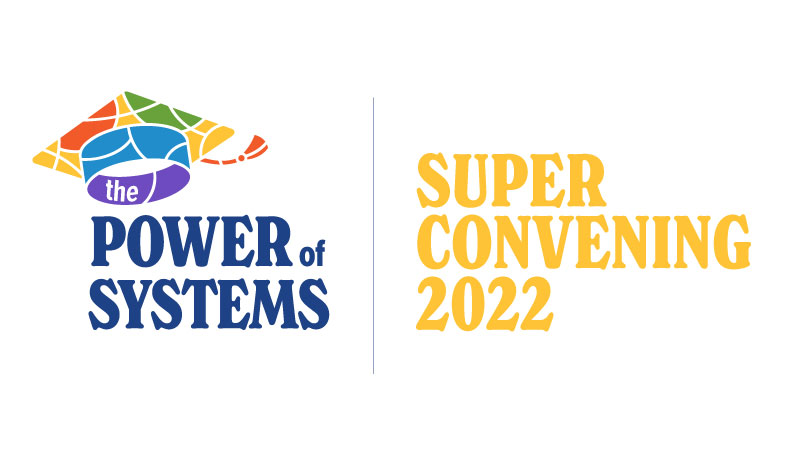 Friends and colleagues,
Wow – we are overwhelmed by the positive feedback coming out of NASH's 2022 Superconvening. If we could measure the excitement, we would undoubtedly be on our way toward getting it done!
We're so thankful to Strada Education Network for their sponsorship in making this event a reality. We also thank the ECMC Foundation, Segal, ACUE, Liaison, and Quottly for their generous support.
December's Superconvening focused on sharing the incredible work NASH's Systems Metrics Task Force has accomplished in just 12 months. Their full report is now available, along with the inaugural Report Card aimed at explaining it all to the public.
We also proudly took the opportunity to celebrate the accomplishments of the Taking Student Success to Scale (TS3) initiative, which, in many ways, set the foundation for the Power of Systems. And, for the first time, we gathered stakeholders engaged in the new Refugee Resettlement Initiative, which puts higher ed systems on the frontlines of tackling one of the world's most pressing crises. Both of these initiatives, alongside our first-ever cohort of Catalyst Fund awardees, showcased their work in a Gallery Walk of posters for all to explore.
But the big headline, it turns out, was what we might do next with all that data. Our proposal for a new "College Is Worth It" marketing campaign has been covered by Forbes and Inside Higher Ed, and it has inspired interest from systems, campuses, and partners across the nation that want to be a part of it. Over the coming weeks, NASH's Communications & Government Relations (CGR) role-alike group will be collaborating on the details of how we can bring this campaign to life with enough financial and operational support needed to make a real impact.
Speaking of websites, we launched a new one! The previous NASH and Power of Systems websites are now one at NASH.edu. With a streamlined web presence alongside our Twitter and LinkedIn channels, we hope to share and lift up the work of NASH and our members in more visible and dynamic ways.
So what's next for NASH? The Institute for Systems Innovation & Improvement continues to push forward with its NASH Improvement Communities. The Systems Center for State Policy is already considering what the next iteration of our public Report Card will look like and how we can leverage it with state legislatures to encourage additional investment in higher ed. The Partnership for Federal Support of Systems will continue to build on our interconnected work with US Education Secretary Cardona and his team. Our new focus on Education to Work will begin to take shape, in direct response to your Mentimeter votes at the Superconvening. And all of this is taking flight as we search for a new executive to lead NASH into the future.
Lastly, save the date! On March 15 & 16, 2023, the Equity Action Collaborative will host a convening in Washington, DC. More information about this event will be shared in the coming weeks.
We hope you are as inspired as we are by what the "new" NASH has in store. This is just the beginning of the Power of Systems and the potential of our systemness!
Happy New Year!
Rebecca Martin and Nancy Zimpher