Training of Trainers - Creating Inclusive Communities Together: Transforming Higher Education Through Refugee Integration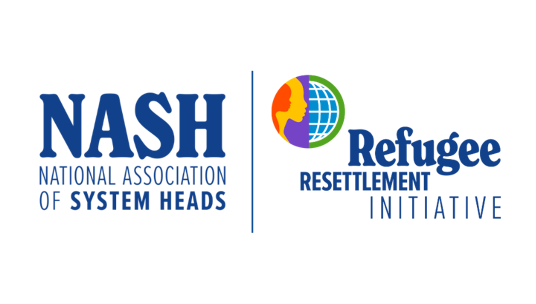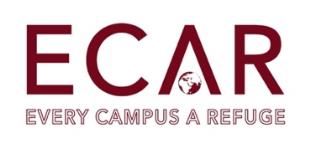 The Creating Inclusive Communities Together: Transforming Higher Education Through Refugee Integration is a training-of-trainers program to prepare higher education leaders to make their campus more inclusive of refugee and displaced community members. This training is hosted in partnership between the National Association of System Head's (NASH) Refugee Resettlement Initiative (RRI) and Every Campus A Refuge (ECAR). This free, certificate-bearing training has participatory and action-driven modules with the goals of:
Enriching your knowledge on forced migration and refugee resettlement;
Empowering you to see the possibilities for your institution in refugee resettlement and integration support, and related transformative curricular and co-curricular programming; and
Equipping you with the tools to create a campus welcoming for refugees.
Logistics of the training:
Free of cost
Eight hours total
In-person (over one day) or virtual (over multiple days)
All graduates of the eight-hour training receive a certificate of participation
Trainees are eligible to receive advanced certification (silver, gold, or platinum) upon completing an "Action Plan" and joining a Community of Practice with a network of higher education leaders working towards building Resettlement Campuses*.
*Resettlement Campus is a higher education institution that mobilizes its resources to host refugees on campus grounds and support their integration while engaging in related and transformative curricular and co-curricular efforts

*Training for Kentucky Institutions, hosted at Western Kentucky University
Become a Training of Trainers Mobilizer 
This training prepares you to mobilize your campus, to seed collective action, and navigate toward the creation of thousands of sustainable, thriving Resettlement Campuses. Interested in organizing a training? Become a "Mobilizer" by organizing this training on your campus. A "Mobilizer" is responsible for:
Apply Below
Recruiting 10-25 campus members to attend the training;
If in-person, booking the space on-campus for the training;
If in-person, fund travel and accommodations for the trainers;
Tracking attendance, sharing with the ECAR-NASH Team;
If seeking certification, after the training, ensure that graduates reflect on their learning and collaborate on an Action Plan and timeline for their institution or system to become a Resettlement Campus. Templates and support will be provided.
After the Training: Optional Action Plan
Trainees have the option of creating an "Action Plan" using the tools and materials they receive in the training, outlining steps to build programs or infrastructure on their campus to actively support refugee and displaced populations. The training will provide a workbook for trainees to complete their Action Plan.
Examples of Action Plans could include building a scholarship for refugee-background students, starting an Every Campus A Refuge Chapter to house refugee families on-campus, or building a mentorship program for refugee-background students on campus.
All graduates who are committed to developing and implementing an Action Plan with their cohort will be invited to join a Community of Practice, led by ECAR and NASH, to convene monthly with experts from the field, and have guidance on implementing their Action Plans.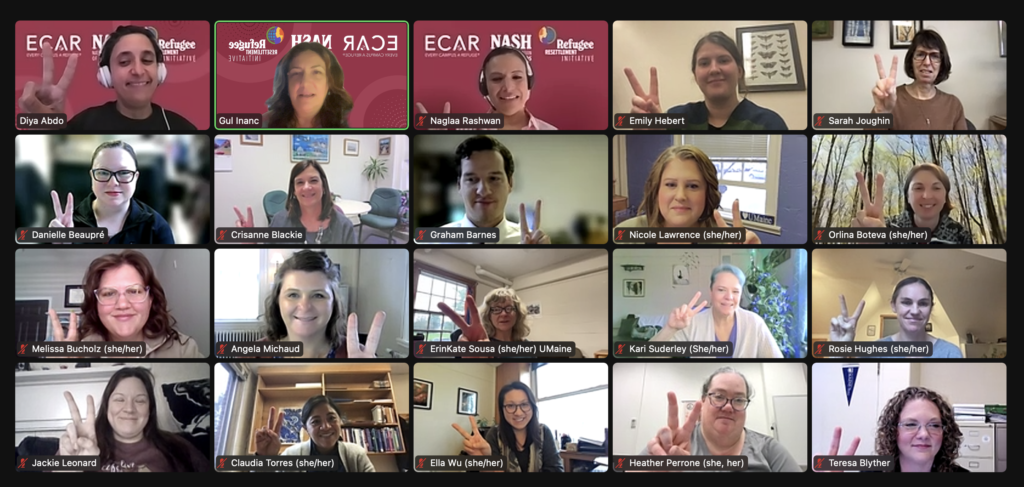 *University of Maine Virtual Training Graduation
Certification Levels
Trainees are eligible for several levels of certification:
For Individuals– any individual member of an institution of higher education (faculty, student, staff, etc.) can receive individual certification. Individuals are eligible for:
Certificate of Attendance
Silver Certification
Gold Certification
Platinum Certification
For Institutions – Institutions can be certified as Silver, Gold, or Platinum Institutions. A key criteria is to have an executive-level administrator (i.e., the President, Chancellor, or someone with authority to make decisions on behalf of the institution) designates at least one institutional representative to participate in the training formally on behalf of the institution and endorse the cohort's completed Workbook.  who is willing to serve as the ECAR-NASH RRI Campus Representative(s) moving forward. To learn more about requirements for institutional certification, please reach out to: ashley@everycampusarefuge.org.
For Systems – NASH-member systems can also be certified as Silver, Gold, and Platinum Systems.  At least one third of the system's institutions must be represented at the training and complete the Workbook together. The System Head (e.g. President, Chancellor, Commissioner, Board of Regents, or someone with the authority to sign off on behalf of the system) must endorse the Workbook. For more details, please reach out to: ashley@everycampusarefuge.org.
Testimonials from Trainees
"As someone who hadn't previously been in a ton of conversations about this, this training was immensely helpful in understanding a lot of background about resettlement and what refugees go through and need. Conversations from trainers and with other peers helped me understand how much value this brings to a campus in so many ways, without costing much, all while helping refugees."
"This was a very enriching and inspiring session. I want to see where we lead from here and how we garner the resources - human and otherwise - to make a difference and contribute to the goals of refugee integration in a meaningful way."
"I cannot wait to put this knowledge into practice."
About the Hosting Organizations
Every Campus A Refuge
Every Campus A Refuge is a higher education initiative founded in September 2015. Its mission is to make every U.S. college and university a Resettlement Campus which partners with a local refugee resettlement agency to host refugees on campus grounds and supports their successful integration. Since ECAR's inception, 16 campuses including Lafayette College, Wake Forest University, Russell Sage College, Siena College, Washington State University, Old Dominion University, James Madison University, and Clemson University among others have started their own ECAR Chapters. ECAR has been recognized by the White House, the United Nations, and with several higher education community engagement awards. In addition to mobilizing universities to support refugee families, ECAR is a member of the U.S. Department of State's Welcome Corps on Campus consortium, and will be supporting private sponsor groups at colleges and universities as they sponsor refugee students. For more information about ECAR, visit their website.
NASH Refugee Resettlement Initiative
The National Association of System Heads (NASH) leverages the power of higher education systems to advance innovation and change in public higher education. The NASH Refugee Resettlement Initiative works to raise awareness and create welcoming campuses and promote the inclusion of refugees and displaced communities at universities across the United States. RRI urges public higher education institutions to invest in educating, training, employing, housing and hosting refugees across the nation with three goals: raise awareness of a new role universities can play as co sponsors and sponsors or refugees, provide technical and coordination support in the form of "train the trainers" programs in partnership with "Every Campus A Refuge" (ECAR) and other such organizations, and advocate for this work with the federal, state, and private sectors, as well as within systems and their alumni networks. Its most recent work includes the Welcome Corps on Campus and The Kentucky Humanitarian Assistance Scholarship.
NASH-ECAR Partnership
Both NASH and ECAR are committed to supporting the tens of thousands of refugees striving for a brighter and more successful future in the United States, by increasing their access to educational opportunities, supporting their economic mobility, and improving the quality of their resettlement experience.  Universities can and are playing an important role in the redesign of refugee resettlement in the United States.  And refugees and their families, if set up for success, can and do contribute to the prosperity of this country.
As HEIs engage with diversity, equity, and inclusion movements, it is expected that there will also be a more robust focus on training campuses and their communities to support the welcome, inclusion, and belonging of newcomers as well. Both NASH and ECAR consider these trainings as an essential component of anti-racism, diversity, and inclusion awareness raising that campuses and their communities are currently undertaking.  This effort also aligns with NASH's Equity Action Collaborative and its essential equity practices.
Campuses That Have Already Been Trained