History
Formed in 1979 for the purpose of seeking improvement in the organization and governance of public higher education systems
How We Got Here
Formed in 1979 for the purpose of seeking improvement in the organization and governance of public higher education systems, NASH has served as a forum for the exchange of views and information among its members and with other higher education organizations.
NASH has strived, in recent years, for cross-system collaboration and has focused on targeted, evidence-based student success intervention strategies to magnify the impact on student outcomes across many institutions. These approaches have emphasized increasing student access and success in college, especially for low-income students and students of color, given the moral and economic imperatives surrounding the completion agenda.
Since then, NASH has expanded its services to more member systems, focused on support for refugees, transfer and graduation success, and advancing diversity in these systems.
The overarching mission of NASH and its strategic agenda, the Power of Systems, was only possible because of the vital work that led up to it.
When the COVID-19 pandemic forced an immediate transition to remote learning in early 2020, NASH system leaders took time to reflect on the big picture. The pandemic exposed limited access to healthcare for vulnerable populations, the overwhelming effects of deep and systemic injustices, and extreme gaps in economic opportunity. These issues became drivers of higher education reform. In that context, what will the future of public higher education look like? The COVID crisis provided an opportunity to "get on the balcony" to look for ways to reimagine public higher education systems and the new roles they might play in strengthening our country.
NASH members saw clearly during the early days of the pandemic that its existing network of higher education systems could build on a tradition of collaboration to increase equitable student success. Our network of systems could not only improve education outcomes but also expand healthcare, address systemic racism, and strengthen our economy and communities. By working together, public university systems can re-envision and innovate to achieve their full potential.
A new term was coined to operationalize this opportunity: "systemness." The concept is that leveraging diverse campus assets within and across systems can create value greater than the sum of its parts. Moving beyond competition toward integrated services, shared academic programming, and predictive data analytics offers a compelling vision and guideposts for closing equity gaps and delivering access, completion, and success for all students, state by state, by 2030.
Over an 18-month period during 2020-21, a group of 100 system leaders supported by five design teams developed the Big ReThink (BRT) Transformation Agenda, which was unanimously adopted by the NASH Board in January 2022. The BRT Transformation Agenda centers on the power of systemness to close equity gaps in student access and college completion, both necessary preparation for successfully entering the workforce.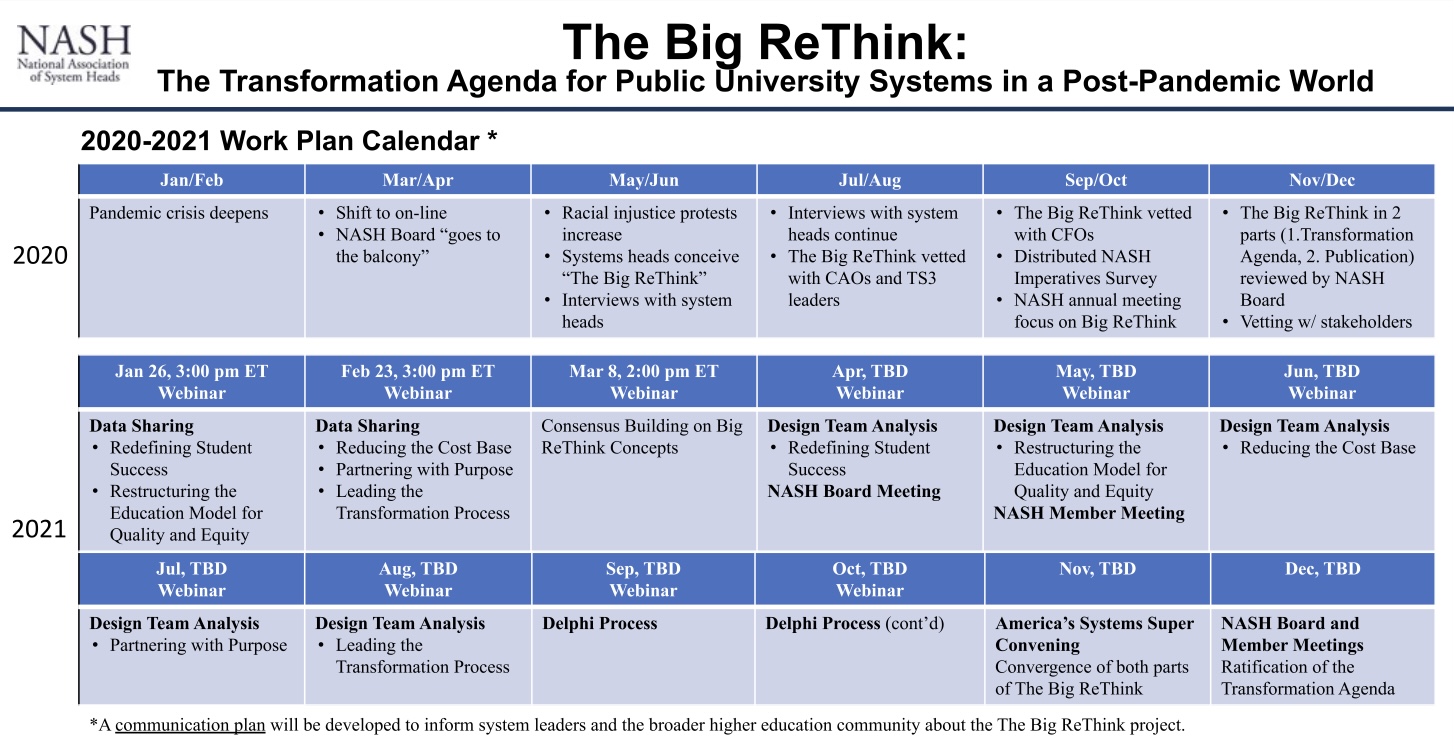 NASH Imperatives for Higher Education Systems Success

Taking Student Success to Scale (TS3)
NASH's commitment to degree completion grew out of its premiere initiative, Taking Student Success to Scale. TS3 was created in 2014 under the leadership of then NASH Board Chair and State University of New York Chancellor Nancy Zimpher in tandem with Rebecca Martin, executive director of NASH, who has worked in higher education for more than 40 years.
The initial idea was to identify a single evidence-based student success strategy that could be replicated and scaled across all NASH member systems to maximize impact on student outcomes nationally.  Ultimately, three potential strategies with solid evidence bases were identified, and TS3 pivoted to allow systems to adopt one or more of the strategies in a holistic approach to student success.
Twenty-three systems initially agreed to self-fund the network and its activities. A Steering Committee composed of representatives of engaged and committed systems guided the development of TS3. The TS3 Network met annually, bringing together approximately 150 faculty and staff from campuses and systems gathered to learn and share. In addition, systems were encouraged to send teams of individuals who could work together to develop and advance their implementation strategies. These two-day meetings, organized by the Steering Committee, allowed participants to learn new strategies for implementing the interventions, all couched within a context of systemness, collective impact, and improvement science.
High Impact Practices
NASH has always been aligned around sharing what we do best. Our High Impact Practices (HIPs) initiative. In recent years, public colleges, universities, and state systems have expanded their historical focus on access to include student success, broadly defined to include learning and equitable outcomes as well as graduation. To this end, many have adopted the language of "high-impact educational practices," developed and promoted by NSSE and AAC&U. High-impact practices include experiential and work-based learning, service learning and community engagement, and undergraduate research, among others. They emphasize real-world contexts and applicability that highlight the value and relevance of college learning.
The field has emphasized the significant benefits of HIPs for student engagement, with disproportionate gains among the historically underserved – who are also, not incidentally, the least likely to opt-in. For public institutions, this has lent a new moral urgency to promote and even require participation in HIPs by the students who most stand to benefit.