Opinion: Boyer Commission Findings Prove We Can All Move this Nation Forward, Together
November 3, 2022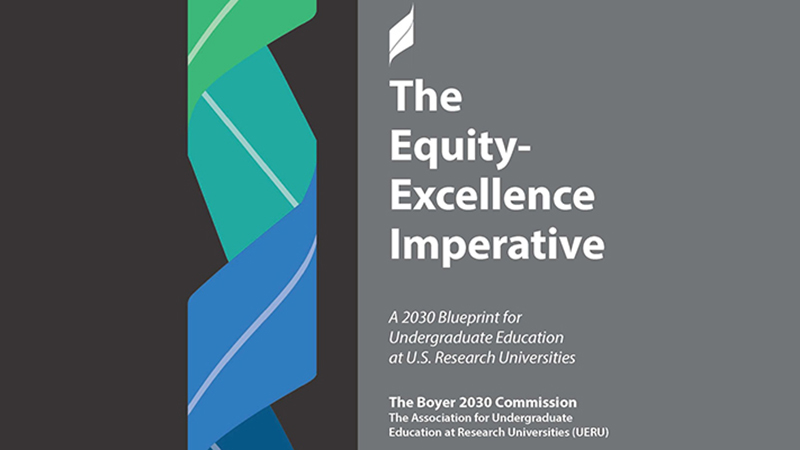 The latest Boyer Commission is the second of its name in honor of a great leader, Ernie Boyer. He was a former U.S. Secretary of Education, president of the Carnegie Foundation, and Chancellor of The State University of New York. His impact on how America educates its undergraduates was so tangible that he continues to inspire progress as we figure out how colleges and universities can meet this moment.
It's a moment of divisiveness. Our country is split in two, with many choosing teams on issues that don't usually require picking a side. Our wallets are struggling, against the backdrop of a pandemic, with a world in strife on the other side of the globe.
But it seems we are indeed poised to meet such a moment as our sectors and thought leaders begin to converge on a common set of goals and strategies. America doesn't have a national system of higher education, but we're working to create one in practice. One that can hopefully prepare the next generation to put us back on track.
As the Boyer 2030 Commission members developed their impressive recommendations for how research universities would transform, leaders of public systems of higher education were doing the same. At the National Association of System Heads, we dove head first into a process called "The Big Rethink" that would ultimately become our version of the Boyer Commission's blueprint. The Power of Systems is our strategic plan to move the dial on student success and advance prosperity for the nation.
Why bother to lay this all out? Because research universities, public systems, local community colleges, independent institutions – we all have one goal in common: to educate more students and educate them better. A better-educated citizenry is healthier, wealthier, and more civically engaged.
The Boyer Blueprint and the Power of Systems focus on teaching and learning. They both address how to be more efficient and agile as we change. And they both put an enormous emphasis on equity. That's not by accident.
Equity – ensuring every student from every zip code, economic background, or personal identity can pursue success without endemic barriers – is the key to a more prosperous society. So how will we get there?
NASH is getting it done by including equity as one of the five imperatives in our strategic plan and also through the years-long development of a powerful tool we call the Equity Action Framework. System leaders came together and created a set of standards and approaches that can guide their peers in implementing best practices that we know actually work.
Our Equity Action Framework is built to provide relevant support to ensure that students of all backgrounds are not only welcomed but achieve high success outcomes. We do this by creating a culture of responsibility for inclusive excellence among all faculty, staff, and students; addressing root causes of inequities and racism; eliminating policies, practices, attitudes, and cultural messages that perpetuate the oppression of minoritized populations; and ensuring students experience equitable treatment as they move amongst institutions.
We say all this not to stoke competition around whose solutions work better but rather as an invitation. Of course, we don't need to have the exact same interventions, but we can row our ships in the same direction.
Imagine the raw potential for colleges and universities to make real change for Americans of all walks of life if we were to genuinely and meaningfully work together.
Imagine a world where we can check our egos at the door, decide what works best by looking at the data, and share the tools to implement those best practices in ways that work for each of our unique systems and institutions. Then, there would be nothing in the way to stop us from ensuring that every child in these United States can grow up and achieve their dreams. And all of the government and philanthropic funds invested in this cause, year after year, could prove to be a good investment.
We can truly make a collective impact.
Nancy Zimpher is Director of the Power of Systems at the National Association of System Heads and Chancellor Emeritus at The State University of New York. Rebecca Martin is Executive Director at the National Association of System Heads.