No Lost Generation at George Mason University
July 13, 2023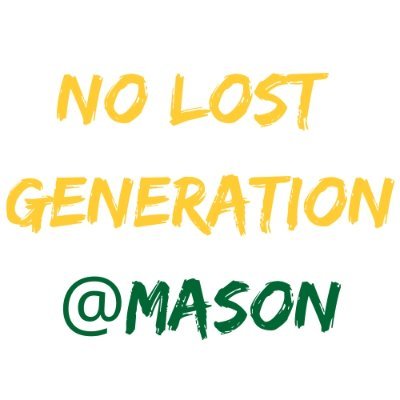 Andres Pacheco-Rivera
Senior, Global Affairs with a concentration in Human Security and a minor in Immigration Studies.
What is No Lost Generation at George Mason University? What is the mission, and who does it aim to reach?
No Lost Generation at George Mason University, also known as NLG Mason, is the latest chapter of a student-led initiative that began in 2015 to advocate for refugees on American university campuses. No Lost Generation also has additional active chapters at George Washington and Georgetown universities.
Our students work to support those affected by forced displacement emergencies and are particularly focused on creating opportunities for refugees to pursue higher education. NLG Mason believes that providing education to refugees is not only a matter of human rights, but also an investment in the empowerment, success, and resilience of refugees as well as the communities that host them.
What are some of the long-term goals of NLG Mason?
NLG Mason currently has three broad objectives to support refugees and refugee students:
First, we are investing in educating our GMU community about the experiences of refugees. We seek to help the community realize their power to create innovative solutions to global displacement challenges that nowadays are often mistakenly painted as unsolvable.
Second, we seek to benefit from GMU's location – which is only a few miles away from Washington D.C. – by ensuring that our members can directly contribute to the national policymaking process, especially when it comes to federal decisions that could impact refugee students. We understand that many student organizations that do similar refugee advocacy work do not enjoy the same level of access that we do at GMU. That is why – whenever we are in the nation's capital – we see it as our responsibility to be a voice for our peers from across the country.
Third, we are taking advantage of GMU's position as a research university to contribute to the migration policy discourse through knowledge production. We want to create a digital library of lectures that we are going to host. We have also encouraged our faculty and students to conduct their own research about forced displacement. We want to turn GMU into a hub where different actors can convene and formulate innovative solutions to global displacement emergencies.
Why did you initially join the NLG Mason team, and what got you interested in a leadership role?
I joined NLG Mason because I love working with immigrant and refugee communities due to their shared experiences and hardships. I come from an immigrant family so I resonate and empathize with those who are in need, and I see this as a calling for me to help them in any manner that I can. I got interested in a leadership role because I would like to be more hands on within the community and within the process so I can get more experience in how to assist and educate those in and outside the community.
What projects or events are you looking forward to with NLG Mason in the coming year?
Next semester, we are looking forward to hosting guest lecturers, primarily GMU's faculty, so that we could learn from the expertise that already exists within our campus community. We want to also bring together internal and external partners, including federal policymakers, to further explore the power of higher education in helping refugees through the newly announced Welcome Corps program.
Moreover, we are planning to engage again with Virginia lawmakers this Spring. The Commonwealth of Virginia is one of the leading states in the country when it comes to facilitating refugees' access to affordable college education. As Virginians, we want our public universities to attract the talents that refugees are bringing with themselves to the state. That's why, it is important for us to ensure that the positive work that Virginia officials have done so far gets acknowledged.
How can the public get involved in or support your work?
The public can get involved by participating in our events and by following our social media pages. Almost all our events are open to the public. Those interested can also join our Mason360 platform to get our newsletters:
Instagram: @NLGMason
Twitter: @NLGMason
Website/Newsletter: mason360.gmu.edu/NLGatMason
Email: apachec6@gmu.edu or NLG.GeorgeMason@gmail.com